Gutters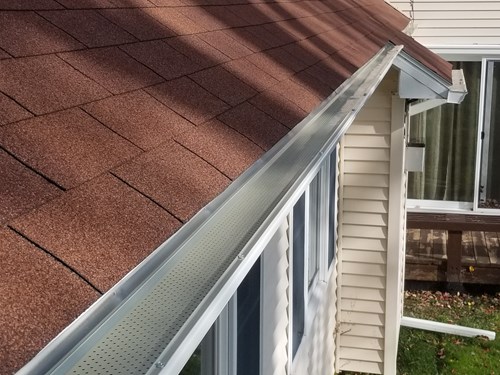 Van Derhoof Roofing has branched out into the seamless gutter business with their own seamless gutter crew to install new gutters and downspouts on your home or business.
"Had gutters installed with new downspouts. Brian's knowledge made me feel confident that I was choosing the right company to help keep my basement dry... Everything has been perfect. The gutter crew was awesome." 
- Brian, a satisfied Van Derhoof customer
Why Do Gutters Matter?

Without dependable gutters, rain, water and leaf buildup can damage your roof, compromising the structural integrity of your home over time which can lead to dangerous living conditions. Gutters are also essential to prevent roof leaks or nuisance rain runoff at the entryways to your home.

Don't wait to fix or replace your gutters. Gutter installation, gutter repair and gutter replacement are much more affordable than fixing problems that otherwise develop over time. 
Van Derhoof Roofing is the trusted, local gutter company.

Get the Gutters That Are Right for Your Home

We install a variety of colors of seamless gutters that will accent your home and provide you with the necessary removal of rain water away from your entrance ways and your foundation. 
Let's Talk About Your Options for Gutters

Van Derhoof Roofing offers all the gutter services you need, including but not limited to:
Gutter installation
Gutter repair
Gutter replacement
Gutters and downspouts
Leaf guards for gutters
Gutter guards
Van Derhoof is the Trusted Choice for Gutters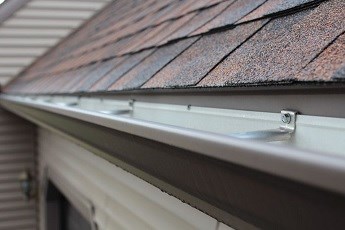 We install fascia mount gutter systems as well as having the necessary knowledge to install a roof mounted strap system and guarantee it won't leak. 

You can save yourself some time and hassle by adding Leaf Relief gutter guards to your seamless gutters to keep debris out.  These gutter guards are great at preventing clogs in your downspouts and keeping the gutters clear for water to flow.
"I am very pleased with the work that was done…For you to stand behind your products and services years after the initial installation says a lot about your organization. I have used word of mouth to praise you and your company prior to this and certainly this recent action confirms my prior satisfaction with a class act company. My sincere Thank You to you and your entire team."

– Steve, a satisfied Van Derhoof customer