Siding
Van Derhoof Roofing Co. has been installing siding since 1971.  We have siding crews that can install a variety of siding products to achieve the look you desire for your home or business.  The choice of siding you want will not limit what Van Derhoof Roofing can do for you.
We offer complete tear-off of your old siding to provide you with the 

best installation possible. Removing the siding will allow us to find any damaged sheathing that may have been leaking and you never knew.  A clean wall installation will also allow us to install an insulation board to increase your building's R-value and to save on energy costs.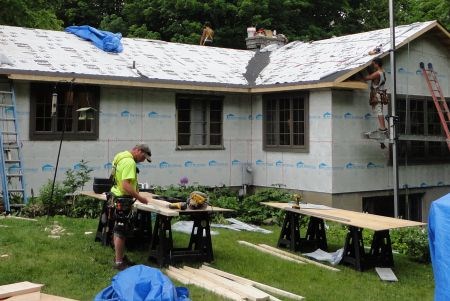 If you are looking for a zero maintenance siding, we can install an assortment of vinyl siding in a variety of colors and styles.  Some products we install are double 4", double 5", Cedar Impressions, as well as many other vinyl products.  
If you are not a fan of vinyl siding, we are able to install products like fiber cement siding, Smart Side siding, cedar shake siding, and cedar clap-board siding. These products offer a very different look to your home or building and will allow you to change the color in the future by painting or staining. 

Whatever product you choose, Van Derhoof Roofing will be able to provide you with a warrantied installation that you will be happy with for decades to come and increase your homes curb appeal.